June 2012
Leaving the house at 4:15am I caught the 8 am ferry from Port Angeles to Victoria. From there I travelled up to Vancouver Island to meet up with my internet caving buddy Peter N. who lives in Vancouver. I met up with Peter and Dale at the Denman Island ferry store in Buckley Bay, about an hour north of Nanaimo. After some initial introductions we continued on to Campbell River for groceries and beer, then Sayward Junction for our last fuel stop. Camping near Port McNeill was cushy, bacon and eggs every morning, little or no lunch on the go, then a huge dinner with copious amounts of beer and hog fat at dinner too. Cavers stay in the woods in style with a woodstove and a huge wall tent. Also arriving at different times and staying with us were, Trevor and Nancy, Dennis, Dave, and Peter C. of VICEG.
Dennis took us up to check out a cave called "Olympic Pool" that afternoon. It's a 25m crawl down a narrow gap in the marble to the pool. Nice looking sump though. We then moved on to peek inside a nearby cave (on the other side of the road) called "Broken Bottle". Broken bottle was a bit deeper but the sump (stream) in the bottom is suspected to connect to Olympic Pool and then continue further down the hill to a cave called "PK1".
Day 2 we decided to put me in Olympic pool with sidemount lp45s to see if there's even any human sized passage at all. I suited up at the truck while Dale and Peter N. graciously hauled an lp45 each down to Olympic pool for me. I donned my FL oriented cave SM rig and really had to wiggle to get down to the sump. The combination of the undergarments, CF200 suit, BC, soft lead on my back and suit inflator on my chest really made it a bit of a squeeze to access the pool.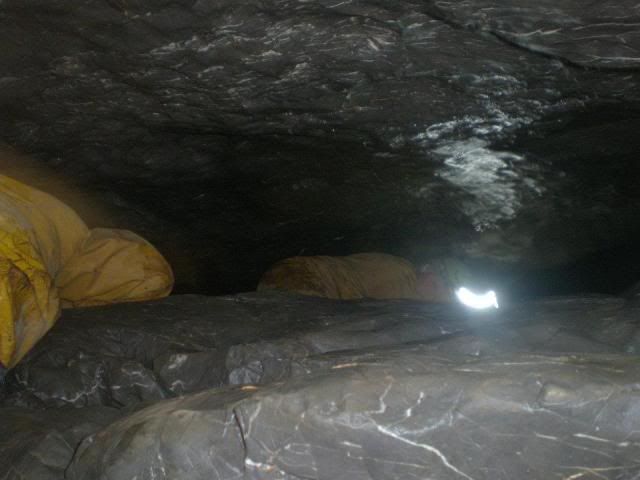 The floor of the pool was smooth grey marble at an annoying 45deg angle making both standing, sitting and kneeling awkward. I slipped under the ~48F water with 2 backups and a helmet mounted light, laying line as I went. I quickly discovered an "H" shaped cave with multiple shallow branches dropping down to the left and right. (Sketch)
I continued on in maybe 4ft of water to a T shaped fault or fold in the marble. I decided the right passage was the larger and more going one so I descend fairly quickly to 56ft where the small tanks forced me to tie off and thumb the dive. I surveyed the 375ft of line laid on my exit and also took this brief clip of the trout living in this underground stream, which at least during my dive had almost no flow.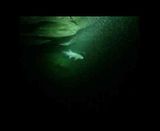 That night it rained maybe 0.5", on the residue winter's snow, blech. Flows were up everywhere. So we went exploring anyway. Off to another new cave called "Wide Open". Here 150ft of stooped passage leads to a dome shaped room with a sizable tea colored stream gushing out of the floor. Not really divable…
So we trek off to check out some resurgences (springs) back by the bridge over the river. These are maybe 25m from the road and while clear their flow is not divable either. Good to know about them though. Again Peter N., Dale and I set off for another cave, not really to dive anything at this point, more just to find and see them. Unfortunately we have no real idea where we are going and eventually give up and return to our VICEG friends at Wide Open. They have found another new cave nearby and are busily enlarging the debris choked opening to allow everyone access while the thinner folks are already inside surveying. We slither inside and crawl around in the soft mud checking out the brilliant white marble formations and the potential for other sump dives. There are some maybes; Chipped in Marble probably connects Wide Open or the nearby creek somehow.
Upon hearing of our river swallet (siphon) confusion, Peter C. very generously drives up the river road to show us. Of course the river is still flush with rain and snowmelt so it's raging.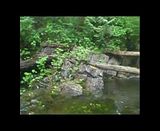 But the swallet is enormous and we quickly make tentative plans to reconvene in August to check out the diving options during lower flow.
Fast forward through a couple of phone calls and various emails to August…